This is NOT me.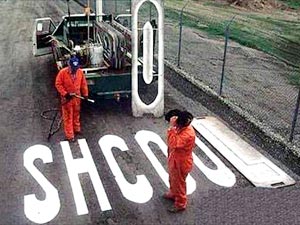 I told you guys in an earlier post that I could not spell very well. I just wanted to set the record straight, I am not in this picture. Besides, I always thought this word was spelled with a "K".
I will actually try to post something without a picture next time. It is just that I have been so busy lately, I have hot had time to do any normal posting. Posting a picture and saying a little something about it is so easy. Not to mention, I am just lazy. Now that I think about it, I did have some time to do a post this past weekend. It has been raining since Sunday morning and I did not have to work Monday . It was nice just to sit around and relax for a couple of days. I do not get to do it often. Plus, like I said I am lazy.
I hope everyone has a better day than these two guys are having.
God bless, Joe This is NOT me.